Searching for the best road running shoes in India? 
Irrespective of whether you are running for a marathon or physical exercise, having the best road running shoes provide an appropriate base for the whole body. This can assist in the prevention of injuries, sprains, and also make it pleasurable to run along the miles. The right running shoe will complement the run and your running style.
What are Road Running Shoes?
Road-running shoes are designed to light in weight and are flexible. They are meant to run on pavements and slight forays of little irregularities. They are created such that it cushions your feet and stabilizes them during consistent strides on even, uneven and hard surfaces.
The Key features are:
* Great cushioning
* Best for roads, tracks, sidewalks, or treadmills
* Have smoother and flat soles to create a constant surface on the paved road while running.
* Great stability
Difference between Road Running Shoes and Trail Running Shoes?
       Road Running Shoes
Breathable uppers
Few stability features
Flexible soles
Lightweight
Many tongue styles
Range of colors
Airy toe box
       Trail Running Shoes
Thick uppers
Stability features
Heavier soles
Usually heavier
Gusseted tongue
Darker colors
Protected toe box
We have understood from above what are road running shoes. 
While Trail running shoes are meant for routes with mud, rocks, roots, and any other off-route obstacles. 
They have a better grip on uneven terrains as they have cleats or bigger lugs on the outsole. 
They are enabled with underfoot plates at times to shield from sharp objects. They are stiffer.
Road shoes are particularly for road-run, faster workouts, tempo runs, and so on as these are light in weight, quick, and comfortable. For humid and hot weather, prefer wearing more lightweight running shoes. Track workouts are best done with a road shoe.
How To Select the Best Shoes For Road Running?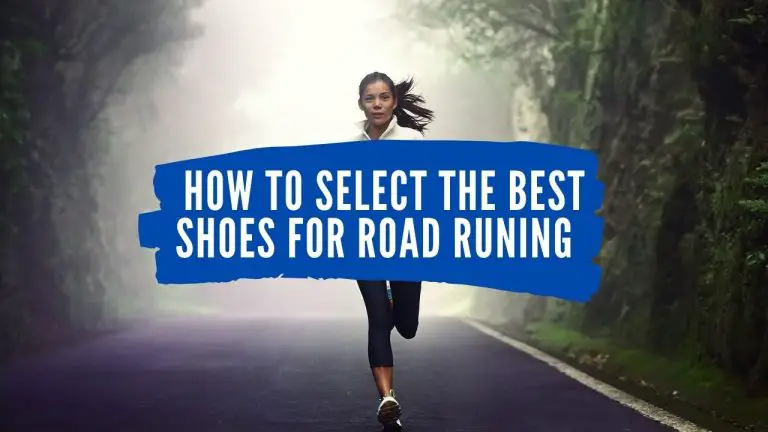 Lets take a look at these significant aspects to consider for selecting the best shoes for running on road.
Type of Runner (Heel Strike vs Mid-Foot vs Forefoot Runner)
You needs to know the kind of runner you are with respect to foot strike. If you are a forefoot runner, your needs vary from a mid-foot runner or a heel striker. Your foot strike will determine the choice of road shoes.
Your Goal
Your speed, comfort, and distance are crucial in deciding which road running shoes are best for you. The lightweight shoe gives faster speed, good support assists in running long-distances, and good cushioning gives comfort wear.
Reviews
Uncover the best shoes with customer feedback on different brands of shoes.
Performance
Shoes with optimum performance and longevity give the user overall satisfaction.
Affordability (Budget)
Quality should not compromise its costs, but it should be around your budget without compromising the overall features you want.
Can Trail Running shoes be used for Road Running?
Trail running shoes are best for muddy, uneven, and rocky surfaces. They are sturdy and protect your feet and stabilize your ankles. They are water-resistant, offer traction and stability. However, they are not designed for tempo, track, and running on roads. But they are safe to be used for road or pavement running.
Can I use Sports shoes for running on the road?
Sports shoes are not designed for running on the road. This is because they are not cushioned and cannot withstand the repetitive foot strike. They differ in weight, and the soles are not meant for rocky, uneven surfaces and undergo abrasion quickly.
Can I use Football shoes or basketball shoes for running on the road?
Football shoes are equipped with spikes to give the player a grip on the ground. No-spike football or basketball shoes are designed for enduring the wear and tear of the game. Football or basketball shoes are tighter and have no cushioning for running.
Bottom Line
Road running shoes are meant for running comfortably on the road because of its features of providing comfort, stability, cushioning, and good grip. Buying the right ones will ensure a long and comfortable run.
Here are Top 10 Best Road Running Shoes in India